Miami celebrity homes boat tour experience is a great choice, especially if it's a family trip with your children. To help you do just that, we've compiled a list of the best things to do in Miami on a boat with kids. Let the exploring begin cruising on a celebrity homes tour in Miami by water!
To get the perfect experience we recommend you book at least a 2-hour boat tour around Miami's rich and famous houses. Cruise from Millionaire Row on Collins Avenue to Star Island, Hibiscus Island, and Palm Island, make sure you see all the views on our celebrity home tour in Miami!
With more comfort and extraordinary quiet, the giant boat is the perfect boat for any occasion. Welcome aboard our large and reliable vessels. Book a celebrity homes boat tour on our giant boat to explore with friends and family!
SIGHTSEEING & BOATING WITH AQUARIUS
Our Celebrity Home Tour introduces our guests to a private guided experience that is unparalleled in its detail and scope. No other tour can include so much substantive Miami history and fun sightseeing, while you cruise at a leisurely pace.
When you book a two-hour minimum celebrity homes tour, you will see some of the most amazing views of homes from the glory days of Star Island and today. Listen to your own music, drink, enjoy your food, and relax while the skipper guides you sightseeing through the impressive waterfront mansions.
Floyd Mayweather Junior
Tom Brady
Shakira
Julio Iglesias
LeBron James
Jennifer Lopez
Matt Damon
Alicia Keys
Al Capone
Ricky Martin
Gloria Estefan
Pharell Williams
Adriana Lima
All our boat rental experiences are private.
Imagine exploring Miami's virgin islands on the bay: crystal clear water, raccoon, manatees, and tropical jungle. Getting this experience in one of the biggest cities in the United States is surreal, but at Aquarius Boat Rental and Tours, we make it happen!
Our guests enjoy having a peak at the rich and famous houses. Renowned worldwide, Miami's bay is a concentration of luxury waterfront mansions and celebrity fortresses that you can admire only from a boat. Our captains are trained to give you the best private celebrity home tour you will ever get!
Fascinating information about Miami and the people who have made it historic is revealed. Stars whose names are as commonly known as anything, glitzy buildings with historic charm and storied pasts, and so much more. Come and join us, be driven around town on the water by the best hospitality professionals in Magic city, and learn (in an incredibly fun way) the back stories and history of the fascinating destination Miami.
Tuesday
8:00 AM - 8:00 PM
Wednesday
8:00 AM - 8:00 PM
Thursday
8:00 AM - 8:00 PM
Saturday
8:00 AM - 8:00 PM
BOOK BEST BOAT TOUR IN MIAMI
Start planning your Miami Celebrity Homes Boat Tour
We accept last-minute bookings, we only need a 2-hour notice window, sometimes less. But if you want to guarantee your preferred time, booking ahead is always recommended. Book a boat tour today and cruise throughout Miami by water seeing all the views!
What we will see on boat tour
Book your private celebrity homes boat tour to cruise Miami by water with Aquarius Boat Rental and Tours Miami. Hop on board our beautiful boats with friends or family and your captain to take in all the beautiful views! Explore Miami Bay's treasures on our top-of-the-line boats!
Meet us at Kings Marina on Collins Avenue, Miami Beach Make sure you sign your online contract before coming, and before you know it, you will be sailing away! Our great boat fleet provides shade and plenty of seating to experience the best boat tour in Miami FL.
Anchor and swim are easy and allowed with any sightseeing tour! Discover secret islands, celebrity homes, and sandbars as your captain guides you on Biscayne Bay! See places like Star Island, the Port of Miami and wave to people as we pass Biscayne Blvd, Brickell and South Beach's coastline. Book today and take up to 10 people on board our giant boats and 6 people on our other boats.
Miami's best activity awaits and is only a few clicks away! Book a celebrity homes boat tour online now and start seeing Miami by water!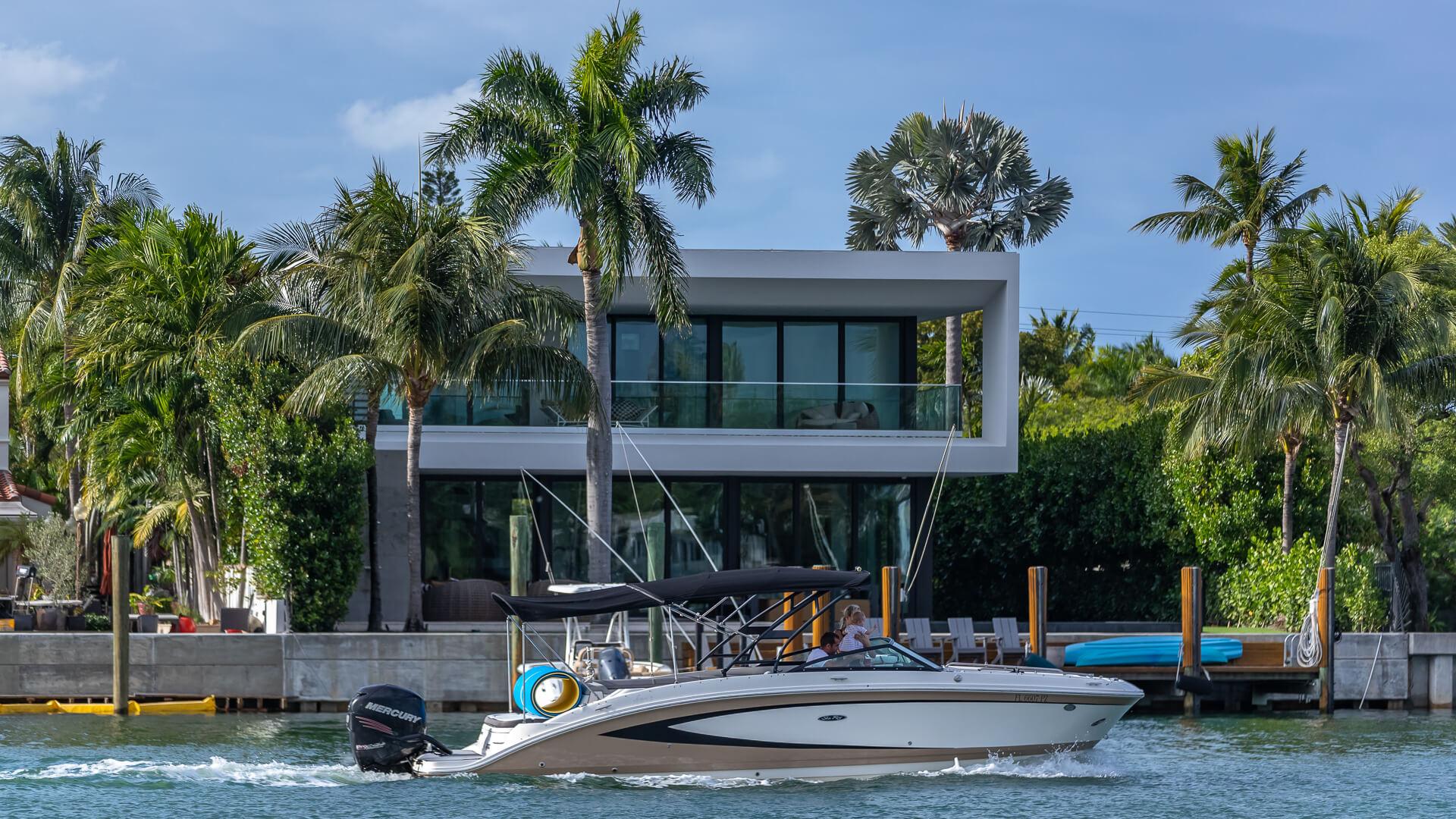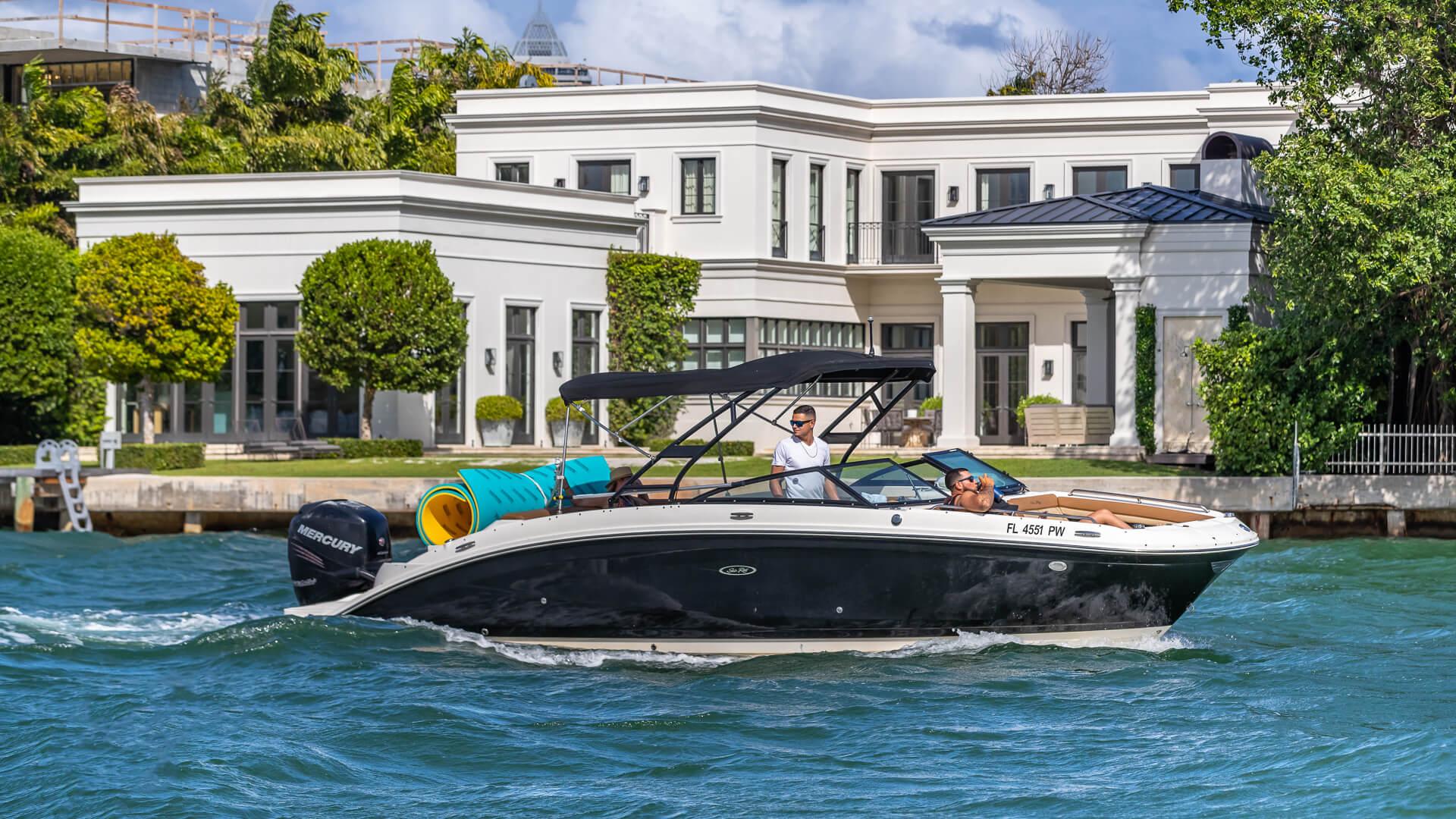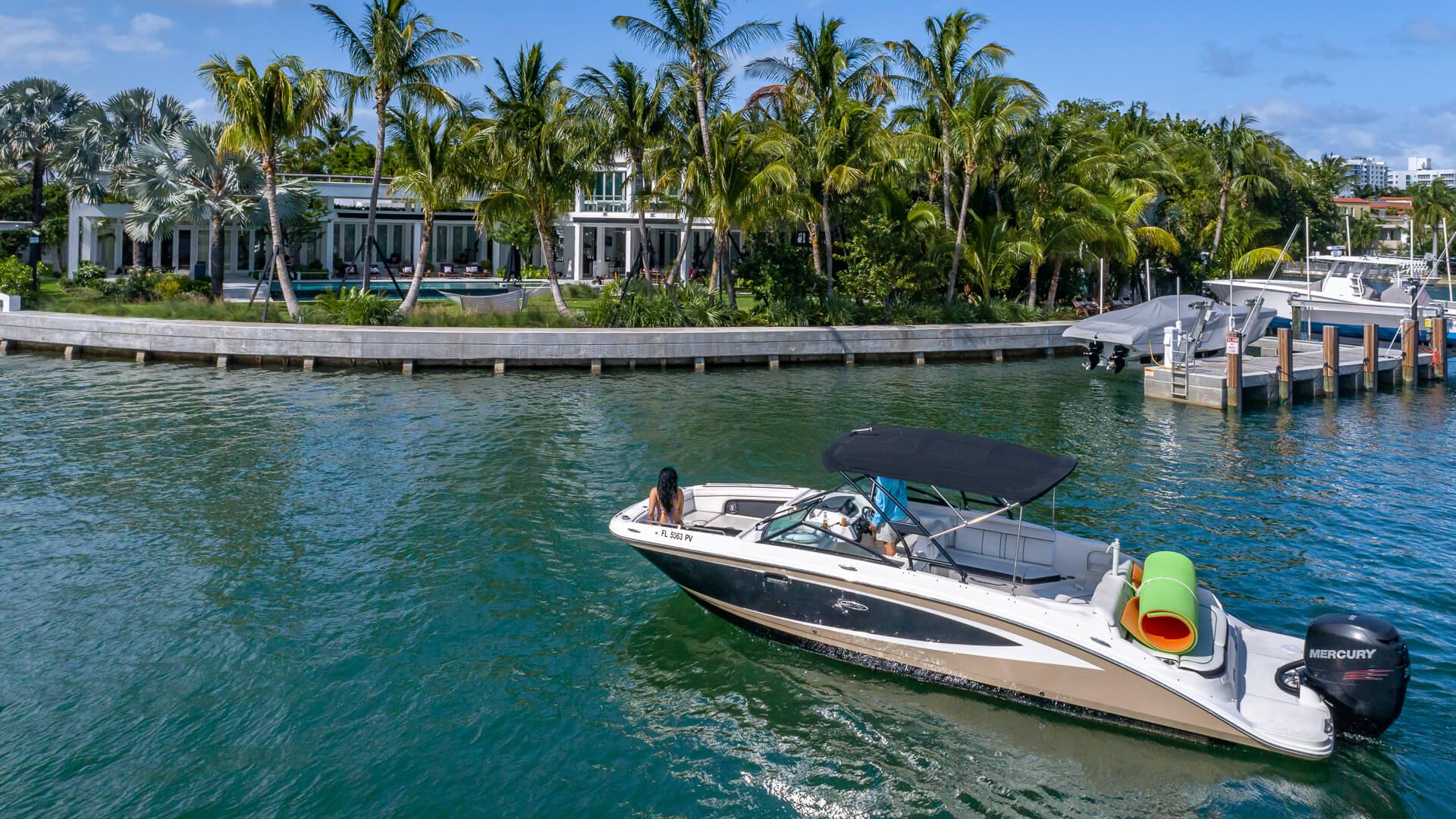 TOP-NOTCH CUSTOMER SERVICE
From Millionaire Row on Collins Avenue to Star Island, Hibiscus Island, and Palm Island, make sure you see all the views while you cruise on a boat tour! Our celebrity home tours are definitely an experience you cannot miss while you stay in Miami.
Book and go on a sightseeing cruise along Shakira's or Beyonce's houses, learn about the craziest stories from locals and enjoy the views of the Miami skyline and Miami Beach from your boat tour on the water. If you are lucky, we might spot some dolphins on the way and if you feel like it, you can anchor and take a swim in our city's beautiful waters during your Miami celebrity homes tour.
Top Frequently asked questions
There is no set route you decide where to go, our captains' favorites are:
- a trip north to the sandbar, millionaire row, Indian creek Village (usually on 4-hour+ trips)
- or a trip south: star island, downtown Miami, and the river, the port of Miami, fisher island 🙂 perfect for 2/3 hours.
Of course, you can stop and swim and enjoy the mat at nice islands on the bay. Whether you want to sightsee or just play your own music, relax, or party, it is totally up to you 🥰
We include a giant floating mat and inflatables for free
The boat comes with a cooler
Bluetooth Speakers
All safety equipment
Our kindness and smiles.
Gas, Captain fee, and Taxes are included in the price you see on the front page.
If you want to reserve your Miami Boat Rental online, click here.
Food and drinks
Towel
Camera
Sunglasses and a hat
Bring comfortable clothes (no jeans!)
Bathing suit and Sunblock (eco-responsible).
Extra cash
Boating in the Bay is totally safe for the little ones. This is a kid-friendly activity in Miami. They enjoy the ride, speed and even jumping in the water for the bigger kids.
Of course,  we provide life jackets for babies and toddlers. Life vests are not mandatory for kids over 6 years old but we will still have them on board.
Make sure to let us know how many children will attend if it's more than 2 so we can plan ahead.
Time goes quickly on a boat so 4 hours will pass like a blink of an eye. There are so many things to see and explore from a boat in Miami that 4 hours is not enough. Our best seller is 3-hour but usually people extend their trip to 4 hours.
Aquarius Boat Rental's fleet
Experience riding on the best boats in Miami, our private family-friendly boats with boat charters from South Florida's best boat rental.
Discovering Miami from the Water
The Allure of a Sightseeing Cruise
A sightseeing cruise is more than just a boat ride; it's an immersive experience that allows you to explore Miami from the water. With Aquarius Boat Rentals and Tours, you can embark on a journey that covers the city's most iconic landmarks, from the vibrant South Beach to the bustling downtown Miami skyline.
Embark on a Sightseeing Cruise Adventure
A sightseeing cruise with Aquarius Boat Rentals and Tours is the perfect way to explore Miami from the water. Cruise and experience the magic of South Beach, the stunning downtown Miami skyline, and the tranquillity of Biscayne Bay all in one boat ride. Whether you're a local or a visitor to the United States, a boat tour is an unforgettable way to see Miami.
Book a private sightseeing cruise to get a unique perspective of Miami. Sightseeing cruises offer a unique perspective of the city. From the boat, you'll have an unobstructed view of the Port of Miami, one of the busiest ports in the United States. You'll also get to see Palm Island and Fisher Island, two other exclusive islands known for their celebrity residents.
Celebrity Homes Boat Tour: The Star-Studded Side of Miami
One of the must-do activities while in Miami is a celebrity home boat tour. With Aquarius Boat Rentals and Tours, you can cruise past Star Island and Fisher Island, known for their luxurious celebrity mansions seeing amazing views of mansions on the water. From the comfort of your boat, gaze at Miami celebrity homes that belong to stars like Gloria Estefan, Shaquille O'Neal, Oprah Winfrey, Julio Iglesias, Jennifer Lopez, and Ricky Martin.
Book Private Miami Boat Cruises for Small and Large Groups
Aquarius Boat Rentals and Tours offers private Miami boat cruises for small and large groups. These tours provide a more personalized experience, allowing you to explore Miami's celebrity homes at your own pace. With commentary available French, English and Spanish, everyone in your group will be able to learn fun facts about the city and its famous residents.
See our highly-rated customer reviews on places like TripAdvisor, Google, and Yelp to name a few. At Aquarius, we work hard to make every boat tour a memorable time to keep and cherish.
Boat Tour Extravaganza: Miami's Best Kept Secret
Embarking on a boat tour with Aquarius Boat Rentals and Tours is arguably one of the best ways to see Miami. These boat tours take you on a journey through the city's stunning waterways, offering unparalleled views of celebrity homes on Star Island and beyond. Whether you're a resident or a visitor, a boat tour is a must-have experience.
Your Tour Guide: Bringing Miami to Life
Every boat tour with Aquarius Boat Rentals and Tours comes with a knowledgeable tour guide who can provide commentary in French, English and Spanish. They are not only well-versed in navigating the waters and vessels being driven but also have a wealth of fun facts about the celebrity homes and locations you'll visit. Whether you're cruising past Star Island or exploring the Hibiscus Islands, your tour guide will ensure you have an enriching and enjoyable experience.
Exploring Miami's Iconic Locations
Celebrity Homes Boat Tour