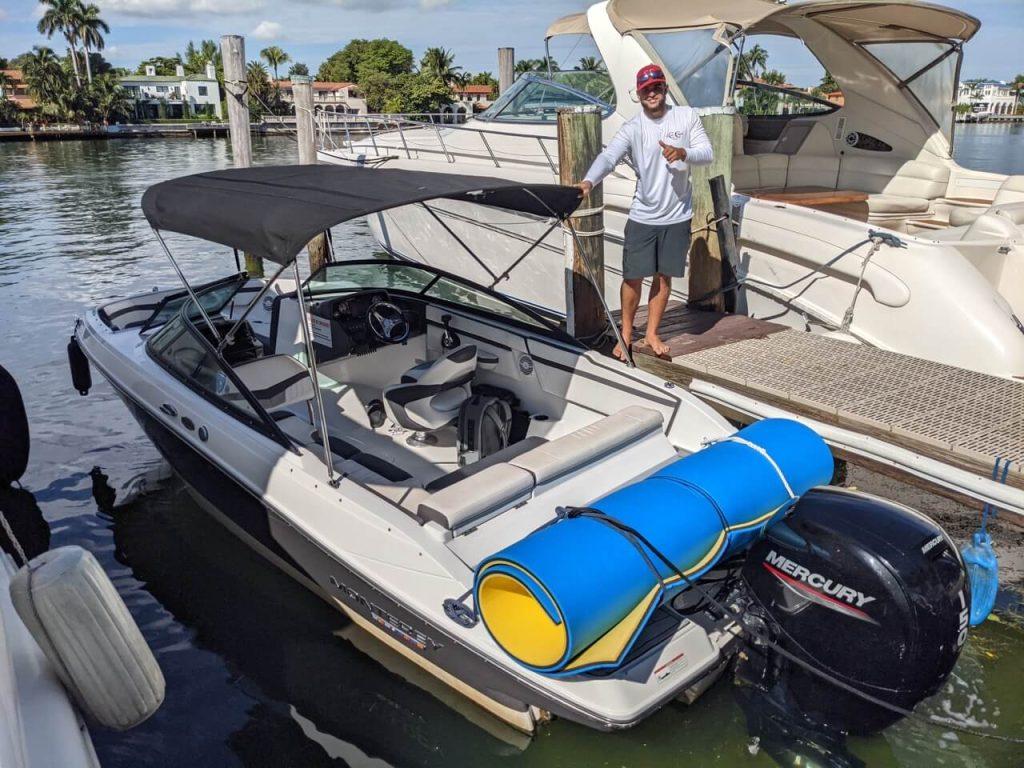 Planning a Romantic Yacht Date in Miami: A Beginner's Guide
A romantic date on a charter yacht in Miami is the perfect way to show your special someone how much you love them. Whether you are celebrating an anniversary, proposing, or just looking for a romantic getaway, the stunning views and beautiful sunsets that Miami has to offer to make the perfect backdrop for a romantic adventure.
Unique Ideas for a Romantic Yacht Date
Whether it's a special occasion or just a regular date night, a yacht date in Miami is sure to impress. But if you're looking for something unique, here are a few ideas to make your yacht date even more special.
1. Bring the Cinema to You
Setting up a private movie screening on a yacht date is surprisingly easy. All you need is a projector, a laptop or tablet, a cozy blanket, and a cozy spot to watch the movie. To begin, make sure you have a suitable spot on the yacht to set up the projector and laptop. You will want to make sure there is enough room for the blanket and that the projector is set up at the right angle so the movie can be seen clearly.
2. Make it a Floating Picnic
Pack a basket of your favorite foods and drinks and enjoy a romantic picnic on a yacht. This is a great way to spend time together without having to go ashore.
3. Take a Stargazing Tour
A Romantic yacht date in Miami gives you the advantage of the dark night sky and the perfect view for exploring the stars. You can bring a telescope or binoculars, and a star chart. Take turns pointing out constellations, and look for shooting stars.
4. Have a Private Dinner
Enjoy an intimate dinner on a yacht. Have your own private chef prepare a delicious meal while you and your partner watch the sunset.
5. Play Some Games
Bring some of your favorite board games or card games to play on the yacht. This is a great way to enjoy some quality time together, and have some friendly competition.
6. Take a Sunset Cruise
Enjoy the breathtaking views of the sunset from the deck of the yacht. Pack some snacks and drinks, and have a romantic evening watching the sunset over the horizon of Miami Beach.
7. Go Fishing
Take advantage of the beautiful waters of Miami Beach and go fishing on your yacht. Bring along some bait, rods, and reels, and have a fun day out in the sun catching fish.
8. Visit Nearby Islands
Explore nearby islands by docking at different ports throughout your journey on board your Miami yacht. Discover hidden beaches, unique restaurants, local culture, and more!
9. Go Swimming
Jump in the crystal clear waters of Miami and take a swim. Take advantage of the warm weather and enjoy a refreshing dip in the ocean.
10. Have a BBQ
Fire up the grill and have a delicious meal cooked right on the deck of your yacht. This is a great way to enjoy the fresh air, and have a tasty meal with your loved ones.
Conclusion
If you are looking for things to do in Miami to spend a romantic time with your significant other, then chartering a yacht in Miami is a great option! You will be able to enjoy the beautiful weather and scenery of Miami while spending quality time together. There are a variety of different charter companies to choose from, so be sure to do your research to find the perfect one for you.
If you want to rent a yacht in Miami, you can contact us at Aquarius Boat Rental and Tours. Whether you want to get a boat for a family trip or a luxury yacht for a romantic getaway, we have it covered. Get in touch with us at Aquarius Boat Rental and Tours to learn more.